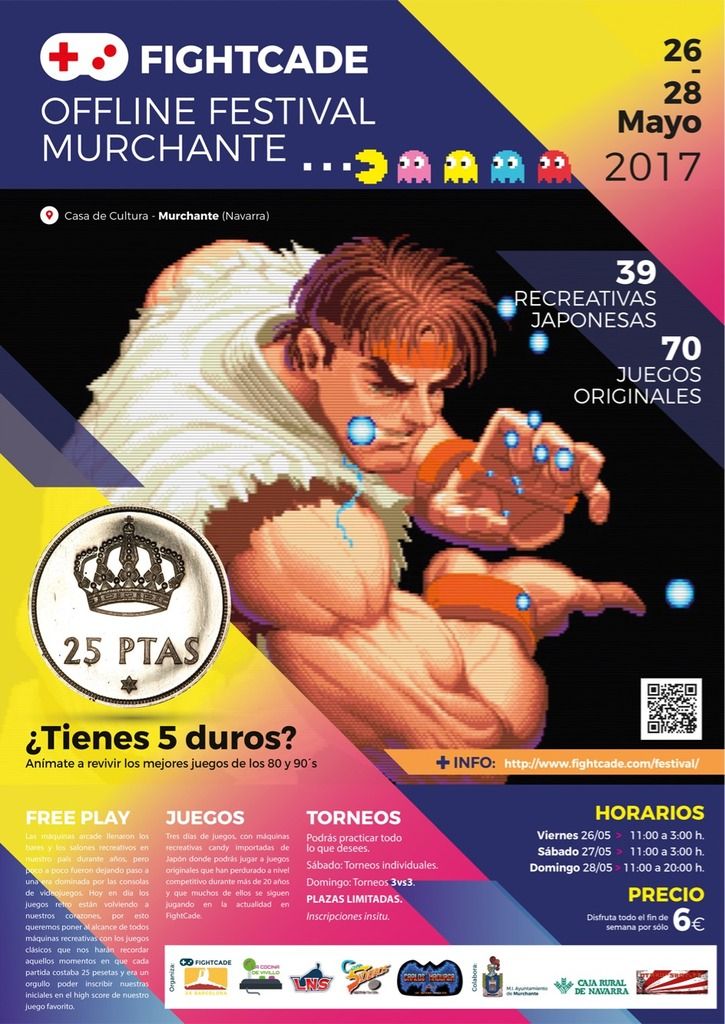 Hello friends
The next 26th,27th and 28th of May FIGHTCADE OFFLINE FESTIVAL will celebrate the first Arcade-Japanese event never seen before in Spain .
Open time : Friday 11 to 3 ( 16 hours )
: Saturday 11 to 3 ( 16 hours )
: Sunday 11 to 20 ( 9 hours )
Come and enjoy many of the best Arcade games ever !
Thousands of casuals games , east vs West style tournaments, ranking tournaments, solo tournaments, 3vs3 tournaments...
The event will count with 38 Candies plus a Sega Boardmaster Japanese supergun with a Sony BVM 2010p monitor .
Everything in a big and modern place , enough for 800 people. Cafe , bar , restaurant service in !
There are people registered from France , UK, Italy and Germany right now !
And we are still working on convince some of the best Super Street Fighter 2X players from Japan !!
The event will be celebrated in my town , so if you wish to come contact me please for any kind of doubts or help .
Murchante ( SPAIN )
In the north , near to France .
You can come easily by plane and Train .
More info here , but needs to be updated soon :
http://www.fightcade.com/festival/?lang=en
https://m.facebook.com/groups/421914204819490
Planning:
Friday 26th, 11 in the morning start the event , welcoming the people and of course cabinets on and play , play , play until the eyes can :awe:
We'll plan along the day some east vs West style tournaments .
Saturday 27th, the main day , apart the free plays and casuals , along the day will be celebrated some nice SOLO tournaments.
Head 2 head tournaments with 2 cabs linked in versus :
Windjammers
King of Fighters 98
Super Street Fighter 2X
Street Fighter 3 Third Strike
Street Hoop
Ranking Tournaments:
SHMUPS WAR:
Raiden
Strikers 1945 II
Dodonpachi
Armed Police Batrider
Progear
PUZZLE CHALLENGE:
Tetris
Puyo Puyo
Puzzle Bubble
PLATFORM BATTLE:
Daimakaimura ( Ghouls and Ghost)
Toki
Thunder Hoop
RUN & GUN CONTEST:
Metal Slug
Midnight Wonders
Crime City
THE KING OF THE STREETS:
Double Dragon
King of Dragons
Final Fight
Cadillacs and Dinosaurs
Alien VS Predator
SPORT FANS:
Neo Turf Masters ( Germany circuit )
Súper Sidekicks
Squash
ARCADE MIX:
Black Dragon
Tumblepop
Blood Brothers
80's CLASSICS:
Rygar
Ghost and Goblins
Bomb Jack
There will be trophies for all the winners!!
Sunday 28th, last day , again we will keep enjoying the lovely Arcade atmosphere, the good people and playing until the closing time the best Arcades .
If there are interest , we'll organize 3vs3 team tournaments in some games.
This is our first arcade event organized, and we are a group of nice people pushing it to do our best and make everyone happy .

Cabinets : ( up to link in versus 8 different setups if is necessary )
8 X Sega Blast City
7 X Sega New Net City
3 X Sega Astro City
3 X Sega New Astro City
2 X Sega New Versus City
2 X Sega Aero City
2 X Irem Madonna
2 X Taito Egret II
3 X Taito Vewlix
1 X Taito Egret 3
1 X Taito Atomiswave
1 X Tecmo Kyotaro
1 X SNK Súper Neo 29
1 X SNK MV1 25
1 X Konami Windy
1 X Namco Exceleena
1 X Sega Boardmaster + Sony BVM 2010p
Original Arcade games :
CAVE:
Donpachi
Dodonpachi
Dodonpachi Dai Ou Jou
Ketsui
ESPrade
Mushihimesama Futari 1.5
Progear
PSIKYO:
Dragon Blaze
Strikers 1945 II
Gunbird 2
TOAPLAN:
V-V
RAIZING:
Armed Police Batrider
Battle Bakraid
SEIBU:
Raiden
TAD:
Toki
Blood Brothers
SEGA:
Puyo Puyo
Puyo Puyo Tsu
GAELCO:
Thunder Hoop
Squash
TECHNOS:
Double Dragon
TAITO:
Crime city
DATA EAST:
Tumblepop
KONAMI:
Versus Net Soccer
NAOMI GD ROM :
Capcom vs SNK 2
Virtua Striker 3
Capcom:
Knights of the round
Carrier Air Wing
King of Dragons
Ghost and Goblins
Black Dragon
Final Fight
Captain Comando
Three Wonders
Pang 3
Magic Sword
Daimakaimura
Mercs
Street Fighter 2 World Warrior
Slammasters
Warriors of Fate
Cadillacs and dinosaurs
Capcom CPS2:
Super street Fighter 2X
Super street fighter 2 Turbo
Hyper Street Fighter 2 AE
Alien vs Predator
Street Fighter Zero 2
Street Fighter Zero 2 Alpha
Street Fighter Alpha 3
Street Fighter Zero 3
Dungeons and Dragons TOD
Dungeons and Dragons SOM
19XX
Capcom CPS3:
Street Fighter 3 Third Strike
Neo Geo MVS :
Metal Slug
Metal Slug 2
Street Hoop
Puzzle Bobble
KOF 98
Art of Fighting
Samurai Shodown
Samurai Shodown 3
Super Sidekicks 3
Windjammers
TAITO TYPE X,X2 Multi
NAOMI NETBOOT Multi
GROOVY ARCADE PC at 240p
Play Station 4 + Street Fighter V
Some videos recorded to show people who never has seen a candy cabinet :
https://youtu.be/65iz7Q66g7U
https://youtu.be/RcLPp5u_MyM
https://youtu.be/wx7vvhIHlEw
https://youtu.be/Ewvv3foxjj0
https://youtu.be/EJnUQzFKBU4
Some of our little private meetings , cabs and games .. :awe: